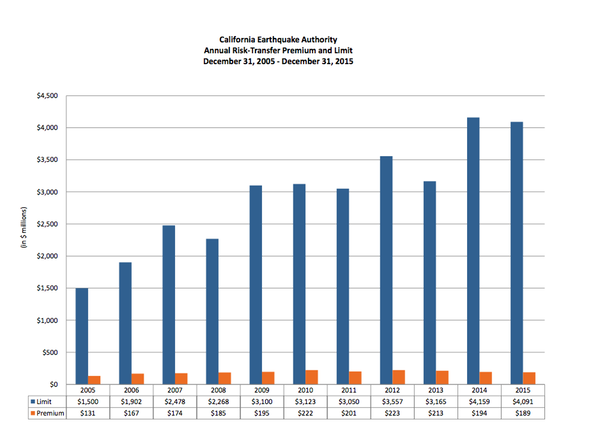 CEA Staff to Update Risk Transfer, With a Cat Model Caveat
The California Earthquake Authority (CEA) plans to continue its annual approach to buying reinsurance and issuing catastrophe bonds, but changes to its earthquake loss modeling methodology next year will force it to be somewhat cautious.
Staff will recommend to the CEA board Wednesday that it approve its "successful" annual approach to risk transfer for 2017, which includes a mix of traditional reinsurance and insurance-linked securities, according to documents.
In 2016, the CEA paid $198 million for $5 billion in reinsurance limit. California manages its catastrophe bond issuance through Bermuda-based Embarcadero Re and Ursa Re.
"CEA's current risk-transfer rates are quite low. In fact, they are historically low—on average, less than a third of the rate CEA was able to obtain 20 years ago," CEA staff argues in its report to the board. "So while insuring catastrophe loss in a responsible manner involves considerable expense, CEA's risk-transfer programs and pricing assure that CEA customers pay no more than is absolutely necessary for dependable CEA earthquake insurance policies."
Once the CEA goes to market for its catastrophe cover, however, changes that will need to be incorporated by modelling firms may require the state quake pool to work harder to keep its claim-paying capacity of a 1-in-450-year levels, staff warns.
"[As] CEA moves into 2017, the three earthquake loss-modeling companies that own the models CEA relies on to determine its claim- paying capacity are modifying those models by incorporating results of new scientific hypotheses and conclusions," the staff memo states. "Modification timetables vary, so the modified models will be available to CEA at different times. As a result, during 2017 CEA will transition to using the respective outputs of the modified models."
CEA currently uses models provided by CoreLogic, RMS, and AIR Worldwide.
The "CEA-sponsored research" efforts cited in the memo that will result in a loss model update in 2017 include:
UCERF3 (Third California Earthquake Rupture Forecast);
NGA-West2 (Next Generation Attenuation Relationships for Western US 2);
and the "Cripple Wall Project", a CEA funded project being conducted by the Pacific Earthquake Engineering Research Center at the University of California, Berkeley.
Separately, CEA staff also recommended that the board renew AIR's loss modeling contract for a three year period for an annual cost of $248,000.
Risk Market News Newsletter
Join the newsletter to receive the latest updates in your inbox.
---