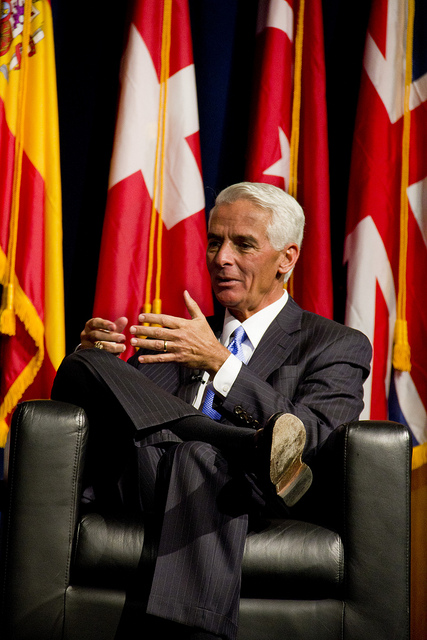 Florida Challenger Targets "Foreign" Reinsurance In Cat Pool Overhaul
Florida's Democratic gubernatorial candidate Charlie Crist is targeting foreign reinsurance as part of a proposal to dramatically expand the state's catastrophe pool.
The goal, according to a position paper released Thursday, is to cut down on "expensive" foreign reinsurance by expanding The Florida Hurricane Catastrophe Fund and getting carriers to purchase reinsurance from the state.
"Typically, insurance companies purchase reinsurance from  both the state-based Cat fund (which is cheap) and from foreign private reinsurers (which is very expensive)," the paper states. "By expanding the amount of coverage available from the Cat fund, insurance companies can purchase more reinsurance from the Cat fund and dramatically reduce the cost to homeowners."
The paper does not detail how Crist — a former Florida governor — would finance the expansion of the fund. Crist is running against incumbent Republican Governor Rick Scott who has overseen the privatization of the state's insurer of last resort, Citizens Property Insurance Corp.
Crist argues that state residents have not seen a reduction in property rates despite an increasing softening market in global catastrophe rates."Reinsurance [makes up] approximately 40-50% of the cost of the average homeowner's insurance policy in Florida," the statement says. "Reinsurance rates have plummeted in the last two years and again this year, but we have seen  no corresponding reduction in property insurance rates."
According to a report issued by the rating agency Fitch earlier this year, Florida reinsurance rates dropped by 25% in 2013 and continued to decline and that the fund has over $13 billion in assets. "We still believe Florida reinsurance risk is adequately priced despite the recent rate declines, particularly compared with property catastrophe reinsurance pricing in other countries, which tends to be more fragmented and not as easily modeled," Fitch stated.
Risk Market News Newsletter
Join the newsletter to receive the latest updates in your inbox.
---