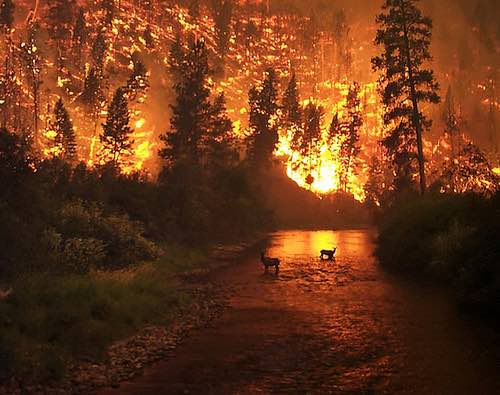 Drought to Deluge Cycle Will Continue to Make California Burn Losses
"Atmospheric rivers" — or large bands of moisture that occasionally stream into California — helped create conditions for recent wildfires that caused nearly $10 billion in insured losses and researchers expect the phenomena to continue as changes in global climate cycles intensify.
A continuing "wet-dry" weather cycle in California that includes short periods of intense rainfall followed by longer periods of drought, then coupled with high winds, is creating all the conditions necessary for wildfire risk, according to a report released today by Munich Re.
"Insured losses from all the Northern California fires alone are estimated at about US$ 8bn, becoming the largest insured wildfire loss in US history (by far) and a worrisome harbinger of the future of wildfire risk," said Mark Bove a meteorologist in Underwriting Services/Risk Accumulation at Munich Reinsurance America.
Bove explained that heavy rains that quenched a seven-year California drought in the winter of 2016 and 2017 quickly regenerated ground cover and "new grass, chaparral, and other types of vegetation turned the Golden State green for the first time in years." However, the rain stopped just as quickly as it started with little to no precipitation over the next five months.
"This led all the new vegetative growth to dry out, becoming a massive source of fuel for potential wildfires," Bove states. "By the time the peak wildfire season in late September arrived, a near-perfect combination of heat, low humidity, and fuels made the state a tinderbox."
The most recent wet-dry weather cycle is not unusual, and Munich Re expects droughts interspersed with heavy participation from the atmosphere river phenomena to continue for years to come.
There were also three key factors that made the most recent wildfires the costliest in the state's history, Bove states.
The fires hit affluent communities with extremely high property values. "Every structure lost to the fires was essentially a million-dollar claim."
A large population and exposure base in the region allowed for extensive smoke damage claims.
Commercial buildings accounted for almost 20% of the loss from the fires, about double that of past wildfire events.
"[The] events of 2017 show us, it does not take years of extreme drought conditions in California to create optimal conditions for wildfires, just a couple of months of dry conditions are sufficient," the report states. "Furthermore, our changing climate is also making California hotter, which means that the rate of evapotranspiration has increased. In short, dangerous fire conditions return to California faster today than they did in the past."
Risk Market News Newsletter
Join the newsletter to receive the latest updates in your inbox.
---