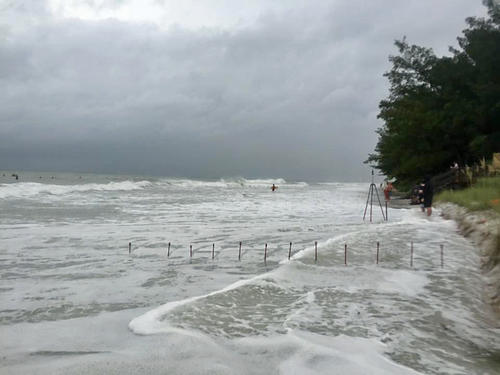 Overwash, Inundation Focus of Hermine Loss
A key to insured and economic losses tied to still developing tropical system named Hermine may be measuring and anticipating the destruction of protective coastal dunes following the consistent drumbeat of storm surge along the U.S East Coast.
With forecasters anticipating Hermine stalling off the U.S. Mid Atlantic throughout the Labor Day holiday weekend, insurers and reinsurers will need to closely watch models with a particular focus on "dune overwash" and "coastal inundation" factors that could translate into significant property loss.
In the case of Hermine, a coastal change forecast model issued by the United States Geological Service (USGS) on Friday predicts dune erosion along much of the Atlantic Coast from Virginia to New York while "dune overwash may occur in a few places."
The NOAA's National Hurricane Center is already warning of "life-threatening inundation" on the Virginia Coast and the possibility of inundation from North Carolina to Connecticut as the storm moves up the U.S. East Coast.
The sequential combination of dune overwash and coastal inundation often result in broader storm surge losses.
The National Oceanic and Atmospheric Administration (NOAA) describes dune overwash as occurring when storm surge elevations increase and waves wash over the tops of dunes allowing seawater to pass into low lying coastal properties.
Separately, the NOAA defines coastal inundation as "flooding of normally dry, low-lying coastal land, primarily caused by severe weather events along the coasts, estuaries, and adjoining rivers."
A report by Corelogic in June, more than 6.8 million homes on the Atlantic and Gulf coasts are at potential risk of damage from hurricane storm surge inundation with a total reconstruction cost value of more than $1.5 trillion.
Risk Market News Newsletter
Join the newsletter to receive the latest updates in your inbox.
---