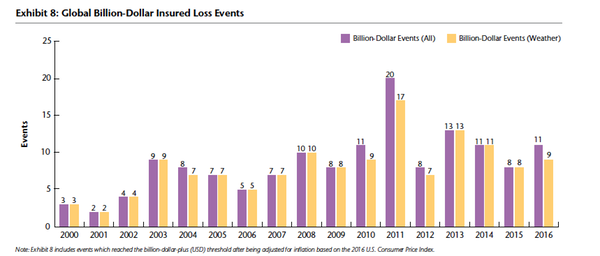 More Billion Dollar Catastrophe Losses Are the New Normal
Weather-related catastrophe events that top the billion dollar insured loss threshold have become more frequent and will pressure insurance and reinsurance executives to adapt as they hit balance sheets multiple times per year.
The insurance industry is absorbing an average of eight billion dollar losses per year since 2000, up from five during the prior decade, according to a new report from Aon Benfield. In fact, mega events that record "multi-billion" dollar insured losses have averaged four per year in the last decade compared to single multi-billion dollar insured loss events in the prior period.
"It can reasonably be assumed that the combination of effects from climate change, more intense weather events, greater coastal exposures and population migration patterns are all equal contributors to the loss trend," the report states. "With all of these parameters in place, and all forecasts continuing to signal greater risk and vulnerability, it is anticipated that weather-related catastrophe losses will additionally increase in the coming years."
According to the report, global economic losses averaged 19 billion-dollar weather events and 10 multi-billion dollar events since 1980 and that there has been "a noticeable uptick in the number of such events in recent years" as the decadal average of billion-dollar events has increased from 10 in the 1980s to 32 from 2010 to today.
For 2016 natural disasters caused economic losses of $210 billion, 21 percent above the 16-year average of $174 billion.
Risk Market News Newsletter
Join the newsletter to receive the latest updates in your inbox.
---