California Quake Costs Add Up
AIR's contract renewed and the Navy faces $2 billion Ridgecrest tab
Ridgecrest Leads to Earthquake Coverage
The biggest driver of earthquake insurance take up in California is a combination of a  post event policy rush and lowering premiums, according to officials at the California Earthquake Authority (CEA).
CEA officials said that policy growth of approximately 49,000, or about a 4.6%  between June and October of this year, was driven partially by the July 2019 Ridgecrest earthquake swarm.
CEA Chief Financial Officer and Chief Insurance Operations Officer Tom Hanzel said at a board meeting today:
Los Angeles County did feel a little bit of the shaking from Ridgecrest, but it wasn't until you get to Kern County where you see biggest bump [in take up] from an event. They also saw an overall rate reduction in that county, so those two coinciding forces resulted in 17% increase in take up.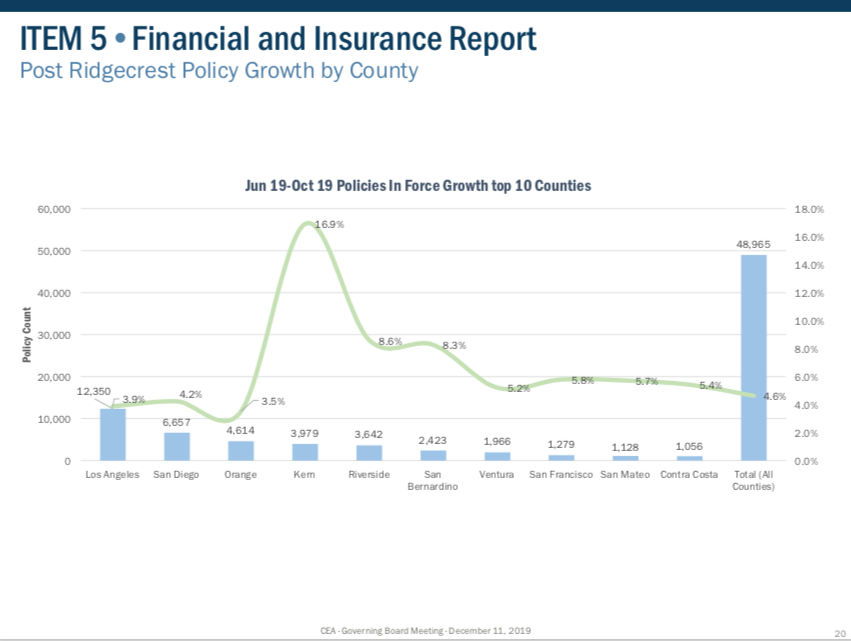 The agency added it saw the second largest increase in its annual policy count in its history in 2019, for a total of 1,105,000 as of October 31.
During the meeting the board also voted to continue its reinsurance and risk transfer strategy that would maintain its a 1-in-400-year capacity.
In 2019, the CEA had:
Conducted 23 risk transfer transactions.
Produced a total risk-transfer limit purchased $5,134,467,440.
Purchased multi-year contacts totaling $1,875,099,960 or 37% of total risk-transfer limit purchased in 2019.
Renewed a transformer reinsurance contract for $400,000,000.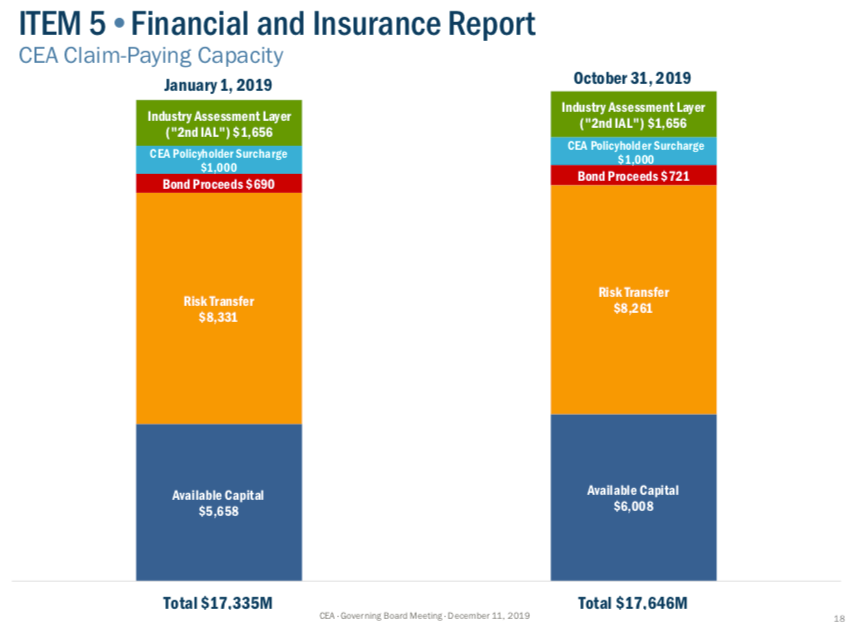 Finally, the CEA renewed the contract of AIR Worldwide for catastrophe modeling services, increasing the spend 6% to $335,000 per year.
---
Defense Bill Set to Repair Navy Quake Damage
The proposed National Defense Authorization Act filed yesterday includes $100 million for military construction projects, including money to repair facilities damaged by the Ridgecrest earthquake.
in light of the earthquakes in July, 6 2019, the Secretary of Defense should reprogram or marshal, to the fullest extent the law allows, all available resources that are necessary and appropriate
A report issued in August by the U.S Navy estimated that $2 billion in repairs are needed to the China Lake Naval Weapons Station that encompasses 1.1 million acres north and southeast of the desert town of Ridgecrest.
---
Risk Reads
Why Global Warming Is This Cable Company's Biggest Risk Factor (Motley Fool)
Increasingly frequent and powerful hurricanes and tropical storms have caused damage that has set back earnings growth and required companies to invest more in durable infrastructure.
This Columbia professor's research paper on severe cyclones is inspired by writer Amitav Ghosh (Indian Express)
Prof Sobel said that it was in the summer of 2015 that Ghosh wrote an email about possibilities of a cyclone in the indian ocean region, and the possibility of its landfall in the city of Mumbai
Risk Market News Newsletter
Join the newsletter to receive the latest updates in your inbox.
---