Catastrophe of a Insurance IPO
Homeowners remains unworthy.
Given the short week RMN is sending today's issue to all subscribers. Next week RMN will return to its regular cadence of three issues for paid subscribers and one issue for free subscribers.
Consider becoming a paid subscriber. This month we will be introducing new features exclusive to paid subscribers, including Catastrophe Strategies that will consist of depth discussions with risk model developers and users.
---
Why Did Palomar Catch Fire?
Quietly, US catastrophe insurer was breakout story of the 2019 IPO market.
Launching its initial public offering (IPO) in April,  La Jolla, Calif.-based Palomar Holdings (NASDAQ:PLMR) was priced at $15 a share.
By the end of the year shot up nearly 200% . Compared to the broader IPO market's 2019 performance of a 33% gain — as measured by Renaissance Capital's IPO Index— Palomar's rise has been one of the top pubic floats of the year and a positive narrative in an otherwise gloomy market laden with busts such as WeWork, Uber and Lyft.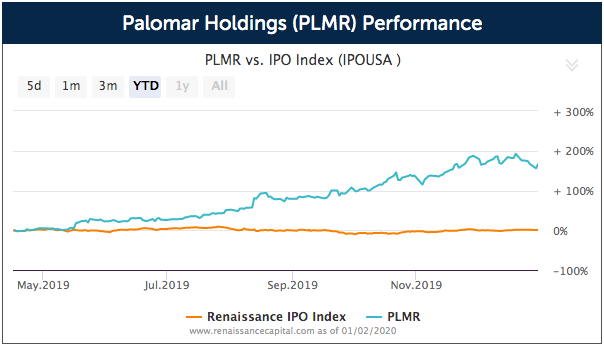 Even compared to the Dow JonesU.S. Property & Casualty Insurance Index performance of 27% for the year, Palomar is an outlier. The enthusiasm has translated into a $1.05 billion market cap for the catastrophe start up, being driven by an aggressive expansion fueled by 60.4% increase in gross written premiums and a 73.4% increase in adjusted net income year of over year, according to a November presentation by the company.
According to company executives, their business model is focused on "underserved, mispriced markets" with residential and commercial policies for earthquake, wind and flood.
The company adds that California earthquake remains its strongest growth driver. Residential earthquake comprised 53.9% of its gross written premiums and generated 66.2% growth compared to the third quarter of last year, executives said during a November conference call.
Palomar adds that it is differentiated by its "Modern technology platform driving competitive advantage," although the emphasis of those efforts are mostly on the distribution side than risk modeling.
For now, the approach of aggressive pricing and sales seems to be resonating best with analysts and investor.
---
Homeowners Net Worth Negative
Return on net worth for homeowners multiple peril was negative for the second consecutive year, according to a new report by the National Association of Insurance Commissioners (NAIC).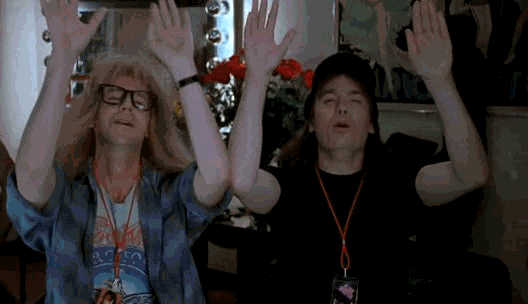 The report states that between 2009 to 2018, the P/C insurance industry had an average return on net worth of 5.2%, compared to an estimated 13.1% for all industries, based on results reported by Fortune.
---
Risk Reads:
PG&E rate case compromise cuts $1.1B proposal to $575M for wildfire mitigation (Utility Dive)
The settlement also calls for the creation of three new balancing accounts for the utility — one to track expenses related to wildfire prevention efforts, another to record the cost of vegetation management, and a "risk transfer balancing account" to record expenses from liability insurance premiums.
Reinsurance renewal prices hold the line in face of disasters (Financial Times)
The past few years have been costly. There were expensive natural catastrophes in 2017 and 2018, and to a lesser extent in 2019. And in the US, courts have been awarding ever more generous payouts to people claiming for everything from medical malpractice to injuries in motor accidents.
Forecasted attribution of the human influence on Hurricane Florence (Science Advances)
Mean total overland rainfall amounts associated with the forecasted storm's core were increased by 4.9 ± 4.6% with local maximum amounts experiencing increases of 3.8 ± 5.7% due to climate change. A slight increase in the forecasted storm size of 1 to 2% was also attributed.
Risk Market News Newsletter
Join the newsletter to receive the latest updates in your inbox.
---