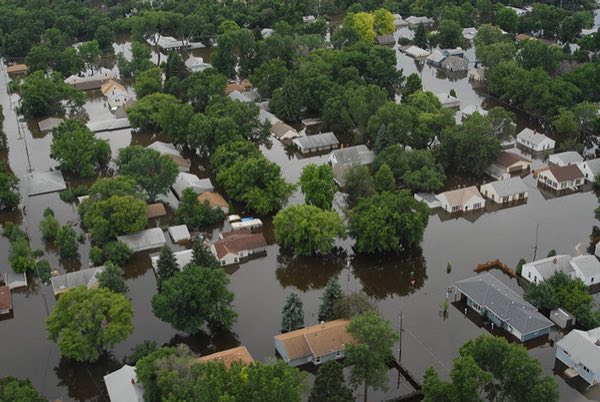 Flood Insurance Privatization Push a Political Priority
Congressional conservatives are reigniting their push to expand the private market into the U.S. flood insurance, including reintroducing a bill this week that would allow states to expand private market policies.
In a coordinated effort, the Housing and Insurance Subcommittee will also meet today to hear from the Federal Emergency Management Agency (FEMA) about the health of the National Flood Insurance Program (NFIP).
"Reforming this unfair, unsustainable and bailout broke government monopoly will be a major focus for the House Financial Services Committee in 2017," said committee chairman Rep. Jeb Hensarling (R-TX 5th District) at the beginning the congressional session in January. "We will pass legislation that begins the transition to a competitive, innovative and sustainable flood insurance market that gives consumers real choices."
On Wednesday House members reintroduced the Flood Insurance Market Parity and Modernization Act, legislation that would make it easier for flood insurance provided by private firms to satisfy the requirement that homeowners maintain flood coverage on mortgaged properties in a FEMA flood zone. The bill also allow policyholders who drop out of the NFIP, then later return, as having continuous coverage.
"More choices and increased marketplace competition means better coverage, more innovation, and more affordable policies for homeowners," said Rep. Dennis A. Ross (R-FL-15th District), co-sponsor of the bill adding that "a one-size-fits-all NFIP flood insurance product" restricts homeowners "even though private policies can offer more comprehensive coverage at a better rate." The same bill passed through the House last term, but died in the Senate Committee on Banking, Housing, and Urban Affairs.
The Congressional Budget Office was skeptical of the bill's impact during the last attempt at passage..
"Based on information from FEMA and participants in private flood insurance markets, CBO expects that enacting the bill would have a very small effect on the decisions that consumers make regarding whether to carry a NFIP policy or to pursue private flood insurance," a CBO report stated. "In addition, offsetting receipts from NFIP premiums would be available to be spent for flood claims, thus CBO estimates that any change in those collections would be offset by a similar change in direct spending."
In addition to the legislation, lawmakers in the House Financial Services Committee will meet today to consider changes to NFIP and question FEMA's Deputy Associate Administrator of the Federal Insurance and Mitigation Administration, Roy Wright.
"[This hearing] will provide an opportunity to review the current government flood insurance model, the technological changes since 1968 that could improve the NFIP, and how the private sector could develop a private flood insurance market that compliments the current NFIP model," a committee memo states. "Currently, the NFIP has about 5.1 million policies providing over $1.2 trillion in coverage in almost 22,000 communities in 56 jurisdictions. The NFIP has an outstanding debt of $24.6 billion borrowed from taxpayers, with $5.825 billion remaining of its total temporary $30.425 billion Treasury borrowing authority."
Risk Market News Newsletter
Join the newsletter to receive the latest updates in your inbox.
---