RMS Hits Investment Peak, Flu Pandemic Warning
Japan and Germany hit hardest by heat waves and severe drought in 2019
Thanks for previously subscribing to the Risk Market News newsletter. We have restarted publishing and switched email platforms. We are also changing to a paid subscription model in 2020, but as a thank your for your earlier interest we will continue sending you the subscriber-only newsletter through January 1.
RMS Owner To Hit "Peak" Investment In Platform
Daily Mail & General Trust (DMGT) — owners of Risk Management Solutions (RMS)  — say that they are comfortable with the catastrophe modeling firm's profitability and that the firm is making "encouraging progress" and that investment back into the business will plateau in 2020 after several years of spending.
DMGT CEO Paul Zwillenberg and CFO Tim Collier made their comments when presenting the conglomerate's 2019 financial performance today.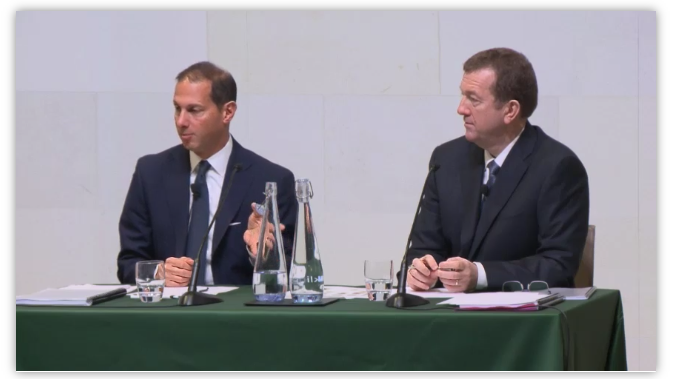 Zwillenberg said:
While there's still a lot to do, the team is delivering on the roadmap. They hit all their roadmap milestones last fiscal year. Customer contracts are starting to return and there are large potential markets where RMS has content is valuable and which to date had been largely unserved. For those reasons, we will continue to invest in the business over the coming year, which will bring forward their ability to allow customers to use the old models and the new models on one interface. To continue to reduce the cost of ownership and to increase feature parody across our existing on prem service with what we offer in the cloud.
The investor presentation also added that after several years of modest gains, revenue growth will accelerate as RMS reaches a peak in reinvestment efforts.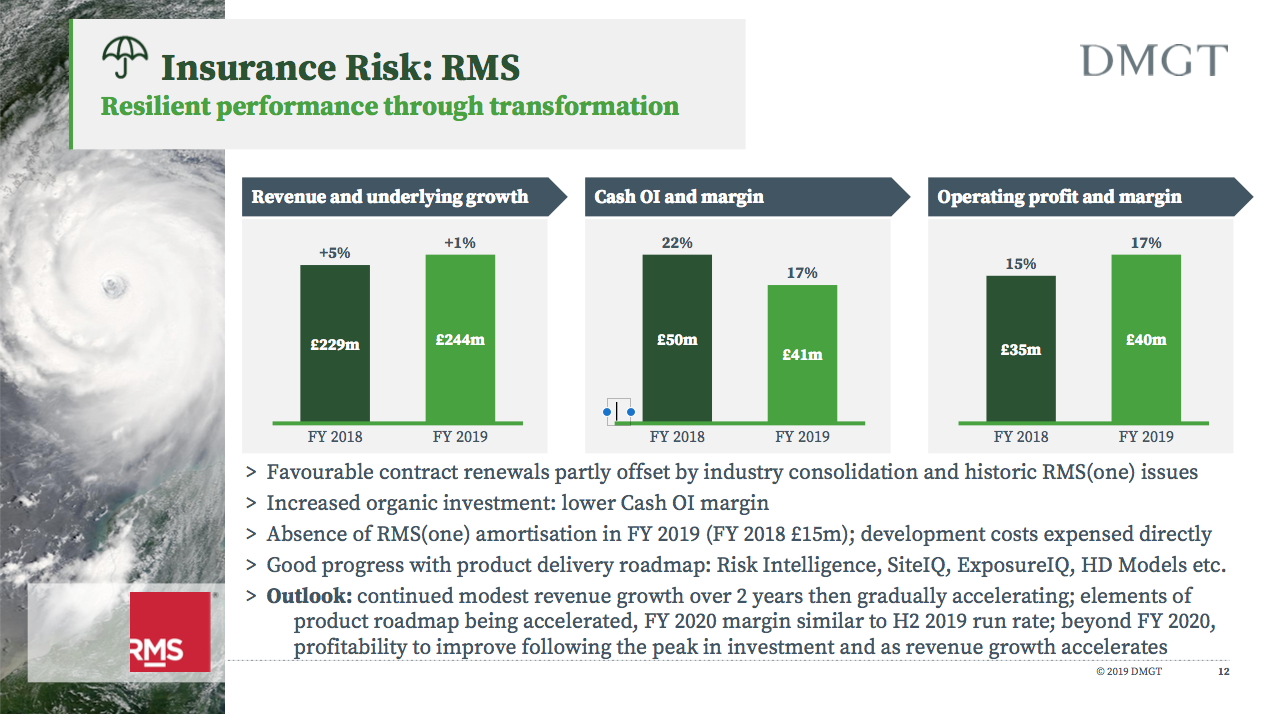 Catherine Tate, an analyst from Goldman Sachs, asked why 2020 was the peak for investment and how DMGT would handle costs as RMS enters new markets.
So we talked about [in] our investor day [the] opportunity we see in that market. But the investment we need in order to really bring out the platform [will] naturally have some sort of spike [and] they will be returned to a more normal investments period. We've seen some really quite encouraging feedback from our customers and more importantly, distinct requirements [requests].  That's really why we're talking about it as a peak. Obviously, if I see ways to invest to drive the top line growth, I'm going to do that.
Risk Chart
The Global Climate Risk Index, published yesterday by the environmental think tank Germanwatch, shows that in 2018 industrialized countries like Japan and Germany were hit hardest by heat waves and severe drought. The Philippines were hit by the most powerful typhoon recorded.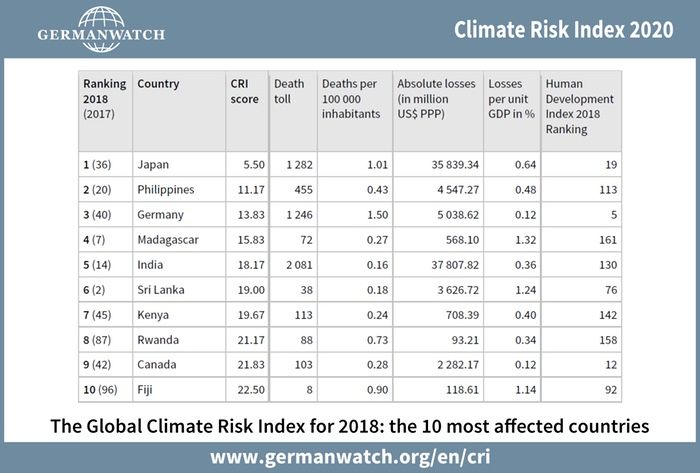 ---
US Needs Manufacturing Capacity, Sequencing Push for Flu Pandemic Response
The US must increase the manufacturing capacity of basic flu countermeasures, as well as push ahead with new gene sequencing technology to prepare for the next flu pandemic.
Speaking before the House Committee on Energy and Commerce yesterday,  Robert Kadlec, MD — the Assistant Secretary For Preparedness and Response for the US Department of Health and Human Services — said that a annual gaming exercise conducted this summer called "Crimson Contagion" revealed shortcomings in the US flu pandemic response.
The exercise found that, in the event of a pandemic:
If vaccine development and procurement for medical countermeasures is needed above current capacity, additional funding would likely be required.
The U.S. lacks sufficient domestic manufacturing capacity and/or raw materials for almost all pandemic influenza medical countermeasures, including vaccines and therapeutics, the needles and syringes needed to administer them, and personal protective equipment, including masks, needles, and syringes. Further, in a pandemic, global manufacturing capacity will likely not be sufficient to meet demand, resulting in an inability to import adequate quantities of medial countermeasures.
To that point, supply chain issues are among the most significant challenges to preparing for an influenza pandemic as well as other infectious diseases. Today, we are dependent on receipt of active ingredients in America's pharmaceutical and over the counter drugs come from China and India; this dependency also extends beyond pharmaceuticals and includes auxiliary medical supplies such as syringes and gloves.
Kadlec added:
In a pandemic environment, this dependence could become a matter of national security, as we witnessed during the H1N1 pandemic of 2009. Countries with influenza vaccine manufacturing facilities restricted exports to satisfy their domestic requirements first.
Nancy Messonnier, MD, Director, National Center for Immunization and Respiratory Diseases Centers for Disease Control and Prevention, added that the U.S government also needs to move forward with new gene sequencing technology to battle a pandemic threat.
We would like to be able to move completely to a domestic and global flu surveillance model that is "sequence-first," a method that uses Next Generation Sequencing (NGS) for all specimens sent to CDC for virologic surveillance.
She added:
As the cost of Next Generation Sequencing drops and the availability of more rapid sequencing platforms increases, this technique may begin to serve as a routine approach for influenza virologic surveillance.
---
Risk Reads
Newsom Slams PG&E Insurance Deal as Wildfire Settlement Takes Shape (Washington Post)
Both PG&E's plan and the bondholder plan would provide for $11 billion for insurance companies that have paid $15.8 billion in fire damage claims. Investors including big PG&E shareholder Baupost Group LLC bought the insurance claims at discounted prices in the secondary market, and stand to reap big profits.
Nat Re hosts capacity-building workshops under the Oasis
The National Reinsurance Corporation of the Philippines (Nat Re) hosted two capacity-building workshops under the Oasis Project for select organizations from the government, the academe, and the private sector last November 25-29, 2019.
Next-generation drone spirits user to safety in times of disaster (Asahi Shimbun)
A venture firm here is developing a one-man drone prompted by the 2011 earthquake and tsunami disaster that allows an occupant to be whisked away by a remote operator to safety in the sky.
Freak storms of 2019 Atlantic hurricane season left trail of destruction and revealed climate change fingerprints (Washington Post)
The 2019 Atlantic hurricane season, the fourth in a row with above-average activity, was one we won't soon forget. It will be remembered most for Dorian, which razed the northwest Bahamas as one of the most intense hurricanes observed in the Atlantic.
Risk Market News Newsletter
Join the newsletter to receive the latest updates in your inbox.
---