Insurtech Is A Crock
Hurricane losses are being measured all wrong, RMS on target
Today's RMN is free to all subscribers.
Below is a list of what RMN full subscribers read this week…
Lobby Wants Hurricane Model "Transparency"
Program Targets Flood Model "Oligopoly"
Consider becoming a full subscriber to get access to daily emails and exclusive features. along with discussion access.
---
Dowling: Insurtech Is a "Crock," Buffett Is a Spoiler
The technology industry's plan of disrupting the insurance and reinsurance industry is "BS." Rather than being displaced by new "Insurtech" companies, established industry players are instead buying up or coopting entrants to maintain market dominance.
According to VJ Dowling, managing partner of insurance industry equity research firm Dowling & Partners, Insurtech is a "crock."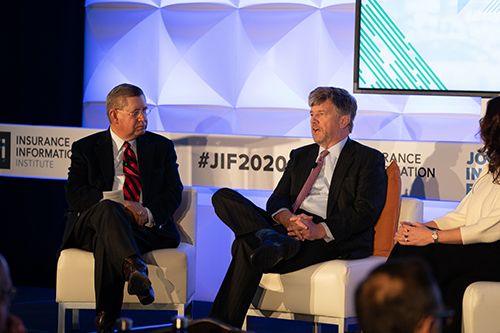 There are very few companies that will end up knocking off the major existing players.
Speaking at the Insurance Information Institute Meeting in New York, Dowling said that said that Silicon Valley tech firm's have targeted the insurance industry because it "arguably does not provide a great value to its customers," explaining that for every dollar the industry takes in premium it only pays back 60 cents. The remaining portion going to operating expenses, loss adjustment expenses, acquisition cost and  "small amount" of underwriting profit, Dowling explained.
With that capital inefficiency -- and a total addressable market for insurance of $700 million -- Dowling said that Silicon Valley believedthat "we can roll these guys" and insurtech would disrupt and overturn the insurance industry.
However, over the past five years a generational change in insurance industry leadership with executives that "understand technology better" has allowed traditional insurers to adopt tech and replace legacy systems.
We've said that Insurtech is BS, that the spreadsheet was a bigger innovation for the insurance industry than anything that's come out so far.
Outside of technology, Dowling said that Berkshire Hathaway remains the 800-pound gorilla defining price and profitability in the sector.
There's the fact that the pricing will never get to the levels we had before because we've got $170 billion, 22% of the capital sitting out in Nebraska with Warren Buffet who hasn't put it to work as he doesn't like the price. He's sitting there every time price gets to a certain level.
---
Time To Shelve Saffir-Simpson
A new paper argues that minimum sea level pressure is more easily quantified and a better predictor of hurricane losses in the continental US than currently accepted method of measuring maximum sustained wind.

The report, authored by researchers from Colorado State University and Aon, says minimum sea level pressure (MSLP) is a "more skillful predictor" of normalized damage than maximum sustained wind speed measured by Saffir-Simpson Hurricane Wind Scale. MSLP has also higher level of accuracy at evaluating a hurricane's potential damage, the report states.
we recommend that more emphasis be placed on MSLP when assessing the potential risks from future landfalling hurricanes. Given that the Saffir-Simpson scale was developed to characterize the risk of hurricanes to the public, we propose classifying hurricanes in the future using MSLP as opposed to [wind speed]. While no scale will ever perfectly account for the totality of storm risk to life and property (e.g., inland flooding), any improvements to better explain and warn the potential hurricane impacts to an increasingly vulnerable coastal and inland population is, in our view, a worthwhile endeavor.
---
RMS Stays On Profitability Track
Catastrophe modeling firm Risk Management Solutions (RMS) is on pace for its underlying growth target of 3%, according to first quarter update from parent Daily Mail and General Trust plc (DMGT).

Underlying revenue growth of 3% was achieved, driven by continued growth in subscription revenues and favourable contract renewals. The accelerated delivery of RMS's product roadmap is on track and we remain encouraged by the level of customer  engagement.
DMGT added that RMS represents 16% of DMGT's total revenue.
---
Risk Reads
Market for Pandemics
The reassortment and exchange of viral components between species at live animal markets is a major source of new viruses. These can be zoonotic—transmitted from animals to humans (e.g., avian flu, SARS, Middle East respiratory syndrome)—and later mutate so that they can transmit between humans, creating the conditions for a rapid global pandemic.
Abolish Asia's 'Wet Markets,' Where Pandemics Breed, WSJ
Post Quake, Turkey Rejects Critics
According to Turkey's state-run Anadolu news agency, the prosecutor general in Ankara has launched investigations against 50 individuals for making "provocative comments" on social media regarding the earthquake. They are accused of stoking "fear and panic," and of having publicly degraded the Turkish people and state. At least two social media users have already been arrested.
Turkey targets critics after deadly earthquake, Deutsche Welle
Parametric Insurance Needs Adoption Push
Global Parametrics, the organisation of which I am chief executive, is one of several bodies that aim to improve access to cover by means of parametric products. These constitute a type of insurance that covers the probability of a predefined event happening, rather than indemnifying actual loss incurred. They provide payment upon the occurrence of a triggering event (such as an earthquake that reaches a pre-agreed magnitude on the Richter scale) and, as such, are detached from any underlying physical asset.
Parametrics offer response to extreme climate events, Financial Times
Risk Market News Newsletter
Join the newsletter to receive the latest updates in your inbox.
---