Models Need Some Pessimism
Big Risk Re
Sundays's issue is free to non-subscribers. Consider becoming a paid subscriber to RMN to receive weekday newsletters.
---
"Optimistic" Models In UK Regulator's Crosshairs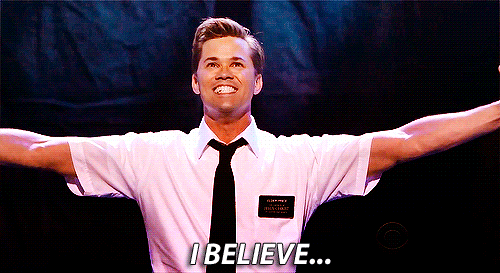 The Bank of England warned insurance CEOs last week that it would be focusing on catastrophe models that show a artificially rosy picture of risk and/or lack enough robust data to accurately capture the risk profile of their portfolio.
In a Dear CEO letter to life and general insurers, the BoE's Prudential Regulation Authority (PRA) warned that it would focus on three areas that "challenge the industry's robustness in the estimation of insured losses from natural catastrophe scenarios."
According to the letter:
We will be using this information to focus our supervisory reviews on those firms that appear to be using optimistic assumptions, or whose submissions indicate significantly lower data quality than their peers.
We expect boards to use these findings to understand the limitations of their catastrophe models, and to ensure they are satisfied with the reasonableness of those assumptions designed to address any shortcomings.
We expect boards to use these findings to understand the limitations of their catastrophe models, and to ensure they are satisfied with the reasonableness of those assumptions designed to address any shortcomings.
The first area that the review will focus on is the allowance for risks not captured within standard models. The PRA explained that some insurers often do not include include the "full spectrum" of potential risks in their models, such as loss adjustment expenses, losses from contingent business interruption or losses under casualty products are often not included.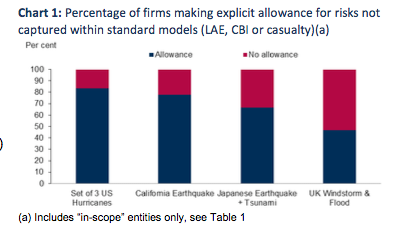 While we cannot assess the extent of any implicit allowances for model loadings that firms have made and not reported, making no allowance is inappropriate when setting risk appetites or monitoring exposures, particularly in light of loss creep reported from recent events.
The PRA also said that it would review insurers modeling of secondary perils, such as flood following US hurricane or tsunamis following Japanese earthquake.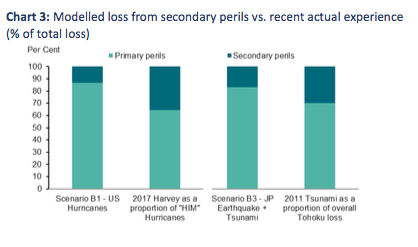 In assessing the impact of each scenario, most firms relied on third-party catastrophe models. However, the ability of these models to assess secondary perils is mixed; as such, many firms complemented these models with a range of alternative methods – such as applying an allowance based on historical loss analysis, using realistic disaster scenarios or industry loss curves, or applying a frequency/severity distribution.
Finally the BoE will being focusing on insurers' data quality, and specifically their model geocoding data, which the PRA says has deteriorated over the past two years.
It is unclear whether this is due to a change in reporting, change in definition (i.e. firms increasing their expectations as to what they classify as geocoded data), or whether this is an actual deterioration in geocoding accuracy.

---
Totus Re Is Totally a Thing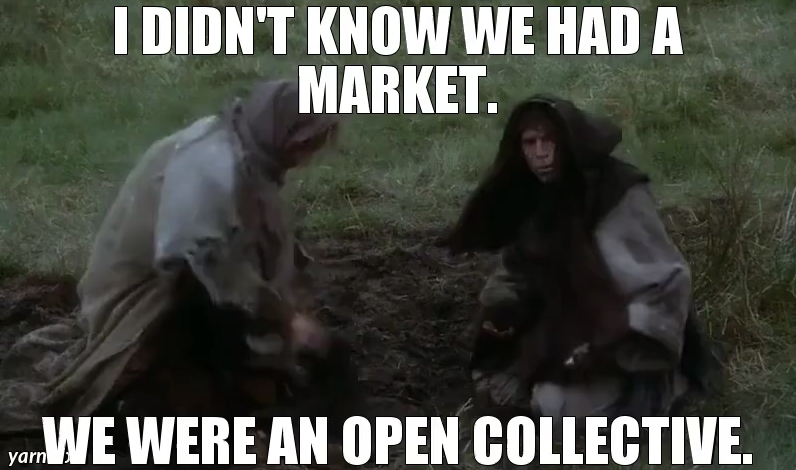 Insurtech and brokerage professionals are asking  private and public market participants to join a new "open collective" that would insurer previously uninsurable catastrophic perils — from pandemics to meteorites — in a new breathless and vague manifesto.
In a "declaration" posted on its website, Totus Re says that it seeks a "sustainable sector-wide mechanism" for currently uninsurable catastrophe risks.
What the declaration lacks in financial, operational or TK specifics, it makes up for with aspirational language
Internet Outage. Space Debris. Meteorites. Solar Storms. Shifts in the Jet Stream. Whilst this list sounds like science fiction - none are beyond the realms of possibility. This list is likely far longer.
At what point does the market exclude and the government include? What is society's share of the "claim"? This triumvirate of uncertainty must be resolved. The United Kingdom has pioneered the insurance sector, let's unite with government and society to solve the inevitable schism before the event.
---
Risk Reads
Insurers' Trade Secret Push
The trade secret designation has been used by 26 companies to stop releasing market share data that consumers were once able to use to compare companies' size relative to their competitors. The decisions coincide with a severe decline in profitability of Florida's insurance industry over the past three years since Hurricane Irma struck the state, causing $17.4 billion in insured losses so far.
As Florida's insurance market darkens, companies use 'trade secret' to keep data hidden (Sun Sentinel)
Lloyd's Apology Fall Flat
"We are not asking for anything as mendicant as handing out cheques to people on street corners," Beckles told Reuters from Jamaica. "The issue of money is secondary, but in this instance the moral discharge of one's duty does require in a market economy that you contribute towards development."
'Sorry is not enough', Caribbean states say of British slavery apologies (Reuters)
Hurricane Hunters Hit by COVID
The five positive tests came back Friday, according to a statement from NOAA spokesman Jonathan Shannon. The sick personnel were last in the facility between June 3 and 8. The base at Lakeland Linder Regional Airport houses the planes NOAA uses to fly into and around the planet's strongest storms.
Coronavirus strikes NOAA's 'Hurricane Hunters' base in Florida (Washington Post)
Risk Market News Newsletter
Join the newsletter to receive the latest updates in your inbox.
---